Women's Bracelets: The Perfect Guide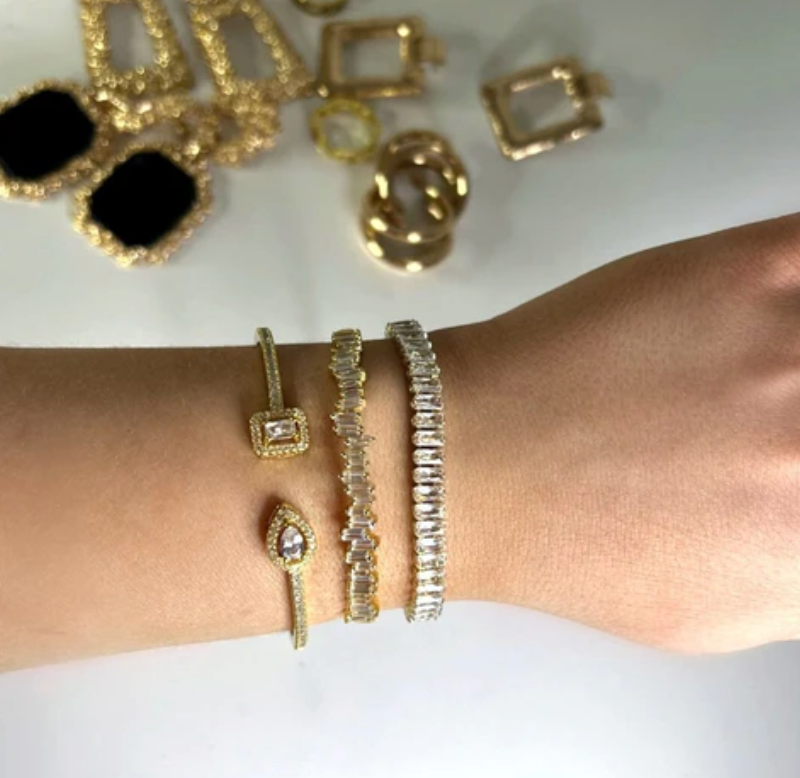 There is a wide variety of bracelets designed for women, ranging from high-end luxury brands to the cherished friendship bracelet. While this compilation is by no means exhaustive, it highlights several of the most sought-after bracelet styles commonly found at many jewellery stores.
Women's Bracelets:
Women's bracelets have been a cherished fashion accessory for centuries. From adding a touch of elegance to expressing one's personality, bracelets are versatile pieces of jewellery that can be worn on various occasions. In this guide, we'll dive deep into the fascinating world of women's bracelets, exploring different types, styles, and trends. Whether you're a jewellery enthusiast or simply looking for the perfect bracelet, this article will help you navigate the options available.
 1. Chain Bracelets
A chain bracelet is identical to a chain necklace, but it's worn on the wrist. We all know the difference between a chain bracelet and a chain necklace is the length of the chain. Chain bracelets are timeless classics. They consist of interconnected metal links and come in various designs, including cable, curb, and rope chains. These bracelets are often versatile, suitable for both casual and formal occasions.
Popular Variations : Byzantine, Figaro, Rolo, and snake chain bracelets
2. Bangle Bracelets
Bangle bracelets are rigid and typically slip over the hand. They can be made from a variety of materials, including metal, wood, plastic, and glass. Bangles are known for their jingling sound and are great for stacking.
Popular Variations:  Stacking bangles, charm bangles, and cuff bangles.
3. Cuff Bracelets
Cuff bracelets are wide and open-ended, often featuring intricate designs and made from various materials like metal, leather, or even fabric. Unlike bangles with rigid bands, cuff bracelets have an opening that allows you to easily slide them onto your wrist, making them a convenient choice for accessorising. They come in a wide variety of designs, which can range from smooth and elegant to jewel-encrusted or featuring imprinted designs on the metal.
Popular Variations : Bohemian cuffs, tribal cuffs, and gemstone cuffs.
4. Beaded Bracelets
Beaded bracelets are adorned with beads made from materials such as gemstones, glass, wood, or plastic. These bracelets come in countless colours and styles, making them perfect for self-expression.
Popular Variations : Pearl bracelets, crystal bead bracelets, and gemstone bead bracelets.
5. Charm Bracelets
Charm bracelets are known for their sentimental value. They feature small pendants or charms that hold personal significance for the wearer. Each charm tells a story, making these bracelets highly customisable.
Popular variations : Vintage charm bracelets, travel-themed charm bracelets, and family tree charm bracelets.
6. Personalised Bracelets

 
Personalised bracelets can be crafted using any of the aforementioned styles, although they are most commonly associated with chain bracelets. When personalising a bracelet with a name, initials, or a specific word, the typography is typically crafted and suspended amidst two linked chains, fastened securely around the wrist. Personalised bracelets are a wonderful option for creating beautiful jewellery gifts for friends or family members.
7. Cord Bracelets
Cord bracelets are typically made from various materials, such as leather, suede, or fabric cords. They are comfortable, adjustable, and come in a wide array of colours and styles.
Popular Variations : Friendship bracelets, stackable cord bracelets, and wrap cord bracelets.
8. Watch Bracelets
Watch bracelets combine functionality and style. They are bracelets with built-in watch faces, making them a dual-purpose accessory that enhances your fashion while keeping you punctual.
Popular Variations : Metal watch bracelets, leather strap watches, and smartwatch bracelets.
Tennis bracelets are elegant and feature a continuous line of small, closely-set gemstones. They are often associated with timeless luxury and make stunning formal accessories.Tennis bracelets are typically studded with jewels all the way around. They are generally pretty flexible and strong pieces of jewellery, but for special events, they have a lot of shine. These baguette-style bracelets have a metal base with gems throughout, but they don't have to be real diamonds. Cubic zirconia is an excellent replacement since it is better for the environment, people, and your wallet. If you want to look glam but don't like huge earrings or thick necklaces, opt for a tennis bracelet.
Popular Variations : Cubic Zirconia Tennis bracelet, Diamond tennis bracelets, sapphire tennis bracelets, and emerald tennis bracelets.
While not worn on the wrist, anklets are worth mentioning. They are bracelets for the ankle, adding a subtle touch of style and femininity to your look.
Popular Variations : Beaded anklets, chain anklets, and charm anklets.
In conclusion, women's bracelets are a reflection of personal style, taste, and individuality. Whether you prefer the timeless elegance of chain bracelets, the free-spirited vibe of leather cuffs, or the sentimental journey of charm bracelets, there's a bracelet type for everyone. So, go ahead and explore the world of women's bracelets, and find the perfect accessory to enhance your style and make a statement.
Remember, the right bracelet can elevate any outfit and become a cherished part of your jewellery collection. Enjoy experimenting and expressing your unique personality through these beautiful wrist adornments.

If you're looking for the perfect women's bracelet to add to your collection, don't forget to explore our wide range of options at DG. We have something for every style and occasion, ensuring you'll find the ideal bracelet to suit your needs.