How Do You Wear A Silver Bracelet?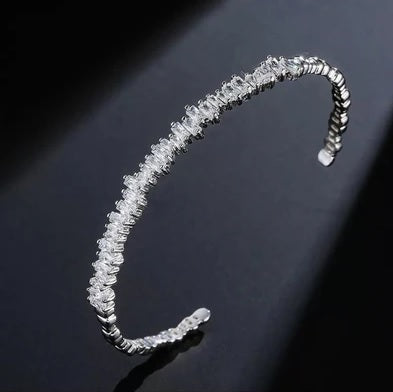 Jewellery adds a fine-tune to your beauty and style. It is a badge of elegance to set your class apart at a party. You could have a distinct taste for jewellery like a bracelet but never forget to coordinate it with your outfit. While dressing up, be concerned about the other areas as well.
Here, we have some ideas for you, so that you do not spend unnecessary hours in front of a mirror before an outing. While accessorizing, remember that we consider jewellery as the ensemble staple.
Match your silver bracelet according to the occasion. Make sure it should come off to the onlookers.
Try to coordinate your simple silver bracelet with a busy pattern outfit. Forget not to notice the material of your attire too.
Do not miss the opportunity to use a statement silver bracelet.
Choose your bracelet according to your skin tone. For example, at Diamond Galore, you can get
Mix cool colours bracelet with warm jewellery and vice-e-versa.
Silver bracelets can go well with sea-coloured clothes or black.
If you are fond of an exquisite bracelet, you must view our site at diamondgalore.co.uk that has a unique collection of silver bracelets. In our possession, we have Tokyo Bangle, Tennis bracelet, Adjustable Alexandra bangle, large silver bracelet, Ella Bracelet, and Adjustable Gabrielle bracelet, which you can purchase at a reasonable offer.
Due to the upcoming V-Day, we are offering a special discount. So, do not miss the bus to impress your lady-love with the choicest silver bracelet from our online store. However, to take care of your beautiful possessions, take some extra care and keep it away from cream, oil, perfume, sweat, chlorinated water, or any sorts of chemical. Clean it at regular intervals so that dirt or smudges do not cause any discolouration or oxidization. 
We have tried to present a detailed description of a combination of where you can choose your style comfortably. However, if you are still perplexed, take advice from an expert fashion designer to set the coordination of your outfit and bracelet.